By Jennifer "Lizzie" MacDonald
Chronic Inflammatory Demylenating Polyneuropathy, or "CIDP", is a neurological disorder that is currently thought to be an autoimmune disease. The immune system mistakenly attacks the myelin coating of the peripheral nerves. Unlike another well-known neurological autoimmune disease such as multiple sclerosis, which first affects the brain and/or spinal cord, CIDP attacks the nerves from the outside in. Usually the feet, hands, legs, arms, or a combination begin to be symptomatic that travels into the core of the body if it's a typical presentation.
Symptoms can be different for many patients, but it usually has some type of tingling or numbness, gradual weakness in the outer extremities, loss of balance, and a decrease in reflexes. Another common symptom recognized by medical professionals is debilitating fatigue. CIDP has different variants, so symptoms may vary greatly.
CIDP has a gradual onset and must be symptomatic for at least 8 weeks to be diagnosed, which is why it is diagnosed as "chronic". The acute form of CIDP is GBS, or Guillain-Barre syndrome, that occurs suddenly with a resolve of symptoms typically within a few months.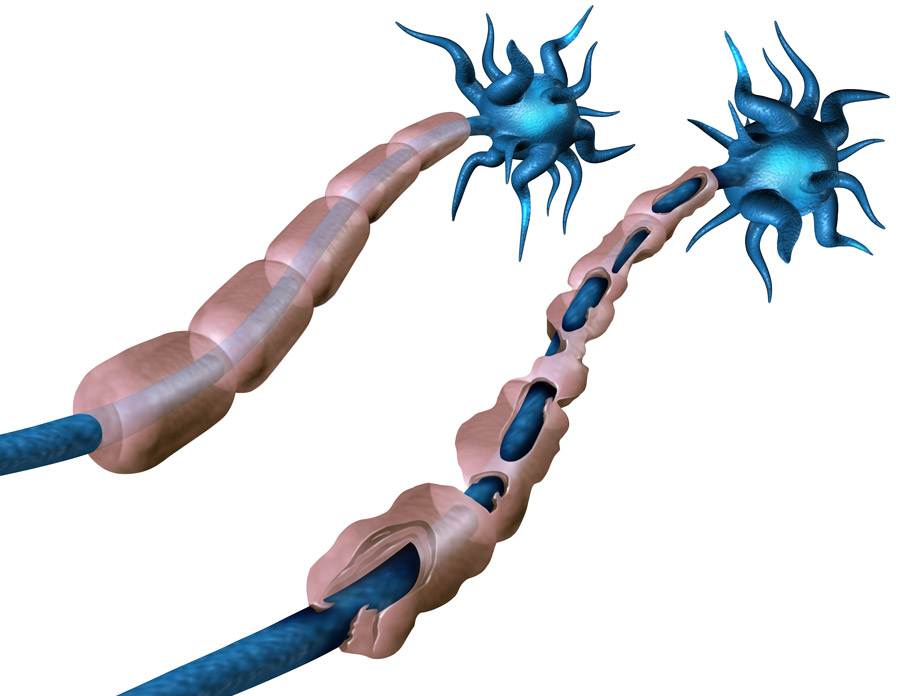 Getting a diagnosis is often one of exclusion. Typically, tests are conducted by a neurologist and may include EMG/nerve conduction studies, a nerve biopsy, and even a lumbar puncture to check for elevated protein levels. Other neurological tests are done, including an MRI of the brain and spine, as well as bloodwork to ensure something else isn't causing the symptoms. CIDP can mimic many other diseases. Peripheral neuropathy can be caused by other conditions such as diabetes, genetic diseases, and other autoimmune diseases.
"My personal favorite was questioning if someone had put fire ant hills in my bed.  I wasn't sure if I needed an exterminator or treatment?"
-Lizzie
The good news is that treatment is available. Many patients start out with steroids to calm down the immune system and the attack on the nerves. Long-term steroid use has numerous negative health consequences. Steroid side effects are often hard to tolerate. Another treatment that many CIDP patients try is IVIG, or intravenous immune globulin, which River's Edge Pharmacy dispenses.
Symptoms of IVIG infusions can be minimal, to uncomfortable, to intolerable. Many of these can be mitigated by extra hydration, changing the protocol of premeds, or having an infusion take longer in time duration than might be initially prescribed. In meeting many with CIDP, they have found IVIG to be a good treatment and continue on it with success. A nurse who is knowledgeable specifically in IVIG is key to having a positive infusion experience, as well as communicating concerns with one's doctor.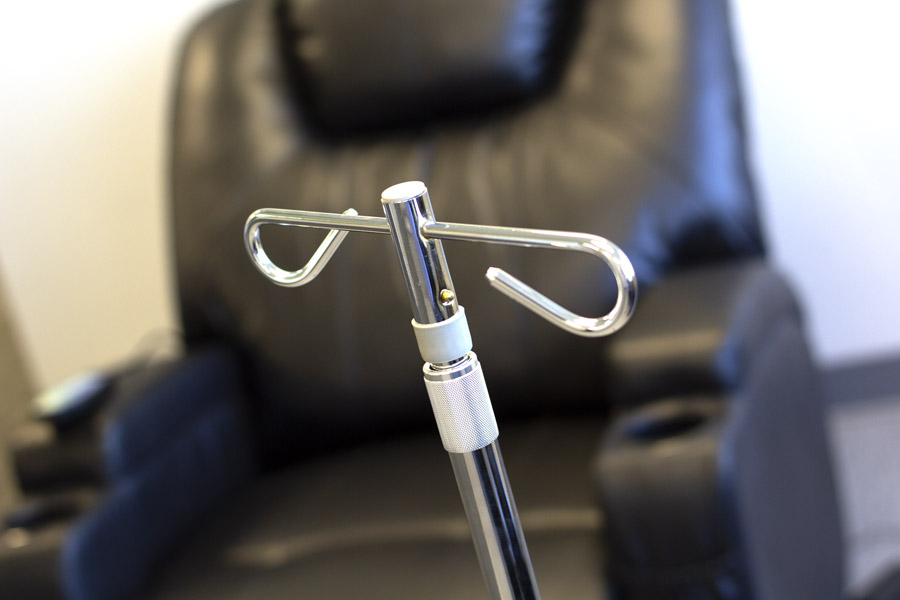 Living with CIDP
I ended up falling in the last category of intolerable side effect– which is fairly uncommon. I would get a migraine after each infusion that would last for days, as well as flu-like symptoms such as shivering and body aches. My nurse, doctor, pharmacist, and I worked to tackle these issues as IVIG treatment was beneficial. Similar to many medications, sometimes the side effects outweighed the benefits. At the last day of my IVIG infusion, I looked at my very empathetic nurse and said, "I just can't do this anymore". I was miserable.
A newly approved treatment for CIDP is subcutaneous immune globulin, or SubQIg. When I was told that it was a weekly, at-home self-infusion administered into the fat layer of the skin with fewer side effects, I said, "Sign me up!!" I had a thought it would be a simple shot taking a couple minutes at most.
It is a more intricate process of making sure everything is sterilized – drawing the medication into large syringes and connecting it to tubing that is attached to several small needles that you poke into body fat of your choice. The amount depends on the patient, but I personally do 4 needle sites. The amount of medication is based on body weight. Most CIDP patients I know use their stomach as it is easy to access, especially if you are administering it on your own. I mostly infuse into my inner thighs, which is an option I have heard more about for pediatric patients. The infusion pump looks nothing like a typical infusion pump. It's more like a wind-up toy!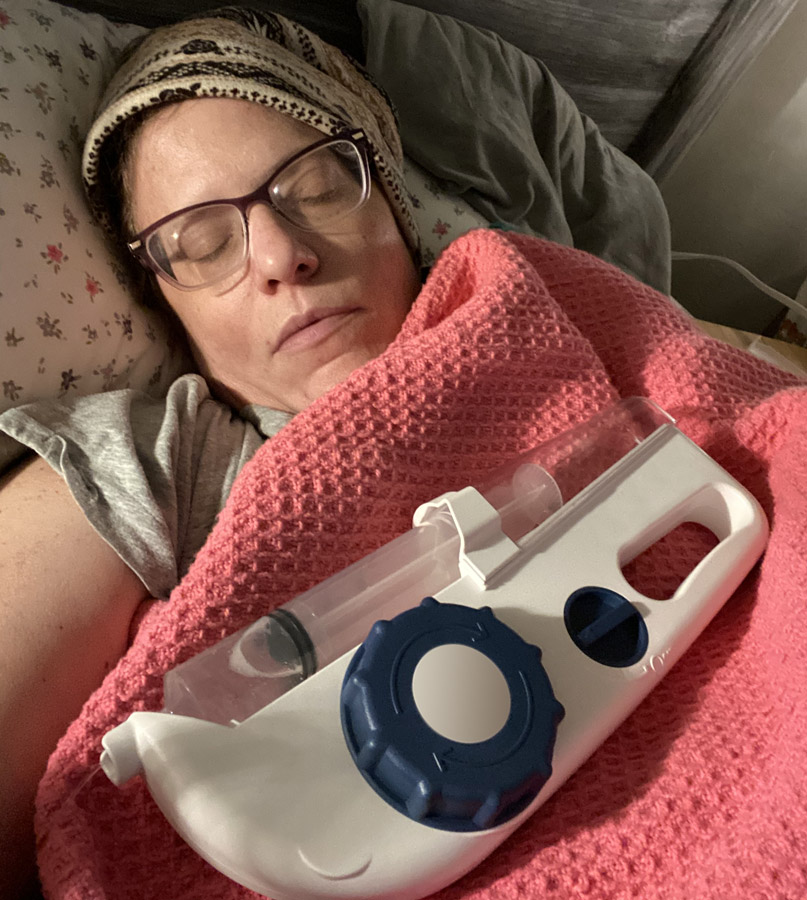 Initially, this weekly process was daunting, as it felt like SO much work.  After several months, however, I learned to enjoy the 3 hours I had as an excuse to do absolutely nothing.  Sometimes I read a book, chat with a friend, or just sleep.  It's an easy and quick set up, now that I'm fully accustomed to it. Even friends who claim to be self-care "experts" don't have the luxury of mandatory 3 hours of stopping weekly.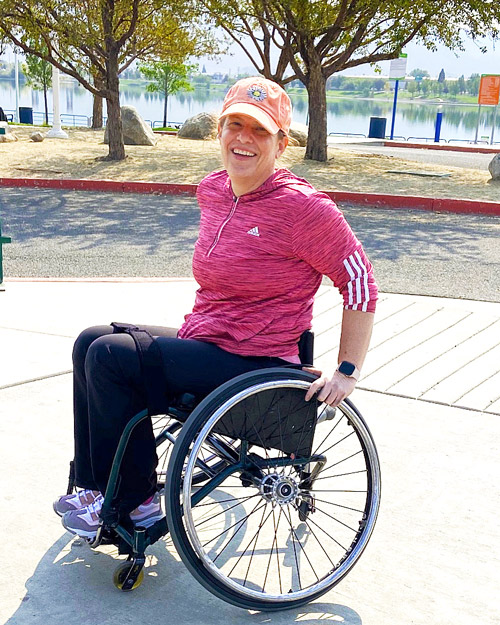 "I believe the SubQIg has accelerated my healing forward. SubQIg allows the patient to have a steady dose of Ig in their system, as the infusion is prescribed more often than typical IVIG. SubQIg allows patients more freedom and flexibility with regard to scheduling as it is done at home without a nurse."
-Lizzie
I no longer experience the side effects I had with IVIG. I believe the SubQIg has accelerated my healing forward. SubQIg allows the patient to have a steady dose of Ig in their system, as the infusion is prescribed more often than typical IVIG. SubQIg allows patients more freedom and flexibility with regard to scheduling as it is done at home without a nurse. I can even travel while performing my infusion. With SubQIg, I no longer need to be near my infusion center or need access to a nurse as many do IVIG at home. SubQIg is an infusion but after a couple training sessions with a nurse, I was set free to do it on my own.
IVIG or SubQIg are prescribed to stop or slow the attack of the immune system on the myelin coating of the nerves. Some CIDP patients achieve full remission. Others might get some strength back, or lessening of neuropathy pain. Some CIDP patients have a relapsing-remitting course of disease. There are also CIDP patients who either don't receive treatment soon enough , or through the course of their disease who end up needing assistive devices such as canes, walkers, wheelchairs, or crutches. I have also known CIDP patients go back to marathon running!
Non-narcotic pain relief is available for help managing neuropathy pain if the doctor feels it is necessary. Physical therapy is beneficial for many especially as people begin to recover from CIDP or learn new ways to exercise that fits with managing energy while maintaining muscle tone and personal fitness goals. Physical therapists are also helpful if a patient needs to learn to use an assistive device properly.
If none of these approaches works for a CIDP patient in relieving symptoms and improving function, there are much stronger immune-suppressant drugs that can be prescribed as a last resort.
"If none of these approaches works for a CIDP patient in relieving symptoms and improving function, there are much stronger immune-suppressant drugs that can be prescribed as a last resort. Sadly, some patients don't respond to any treatment, but I have seen bravery within these patients, as we all work to manage this disease however we can."
-Lizzie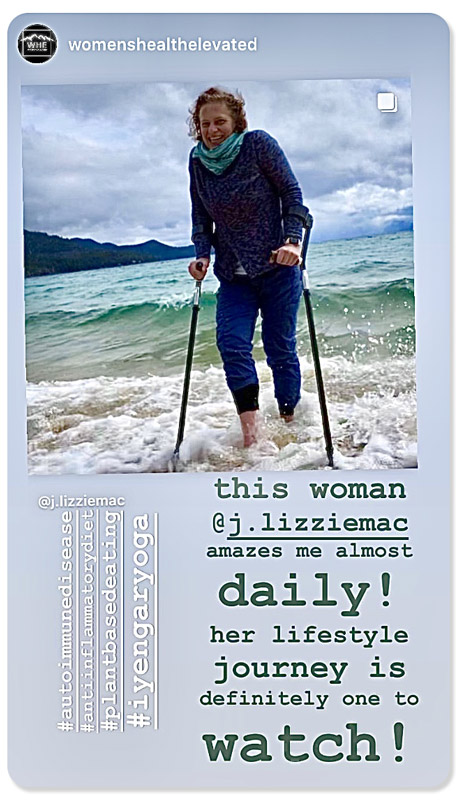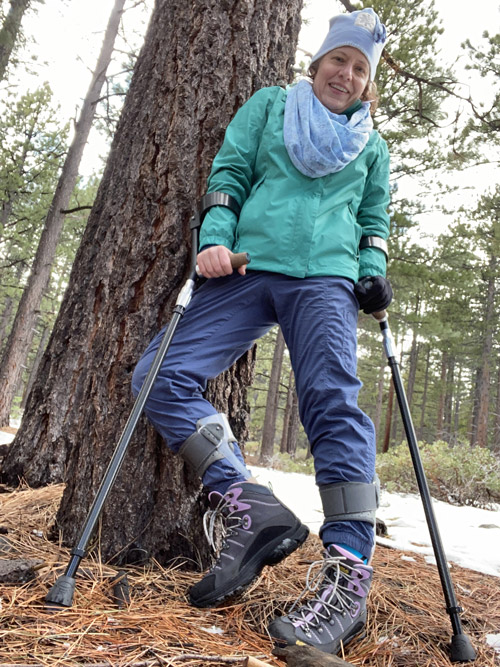 The fire ants left my life with the help of Ig treatment! I am gaining some strength back in my legs and arms. A lot of people in the CIDP community agonize and grieve, saying, "I just want to walk again". I strive to bring hope to these people.
While I miss walking without thinking about it, I was relieved when a hospital neurologist introduced me to a brand of custom forearm crutches. These crutches were designed by and for people with disabilities – largely so they may enjoy outdoor activities (or at least make movement easier and more comfortable in general).
The day I received my custom forearm crutches and wheelchair was exciting, as I tossed my walker aside and said "goodbye" to falling over constantly.  I enjoy hiking again.  I play on a local wheelchair basketball league and have taken up learning wheelchair tennis.  While I wish getting out of the car was as simple as standing up and going, I know it won't be for me, and I remind myself that my wheelchair and forearm crutches give me freedom. But as I said previously, many with CIDP get back much of their old functionalities. The spectrum of the disease is vast. There is a lot of positivity in the CIDP community of support.
The one thing I have learned in having CIDP is to expect the unexpected! My fatigue depends upon my activity level. Sometimes there isn't even a connection. Staying committed to exercise, healthy eating, being honest with my doctor, and budgeting my energy has made going from living with CIDP – a crazy whirlwind of the unexpected – to it being really ok.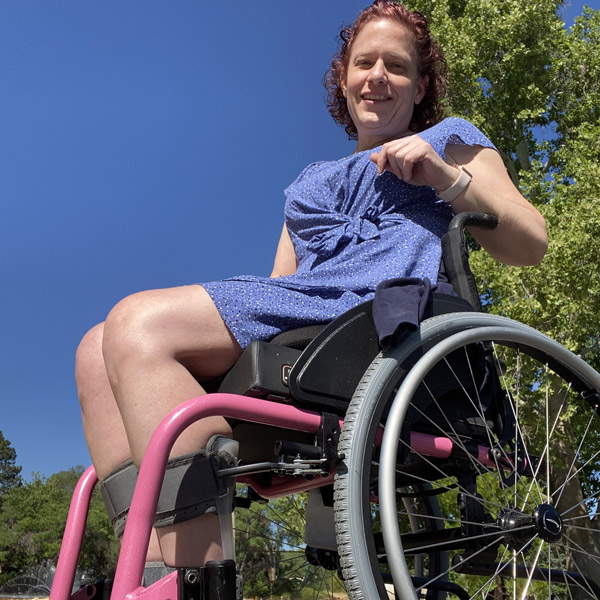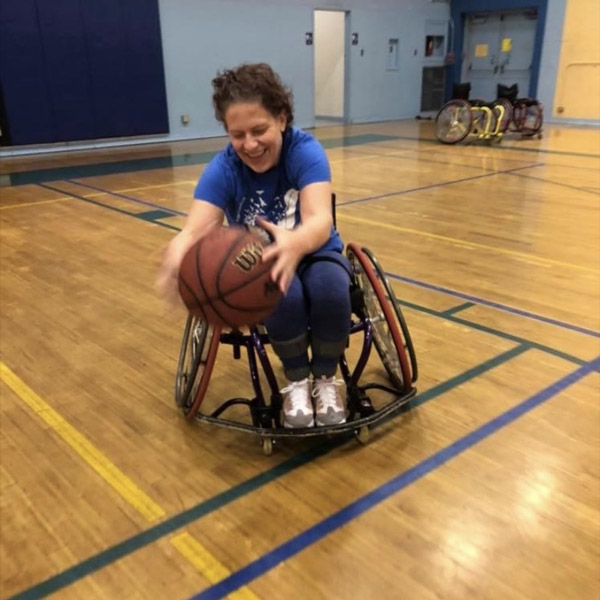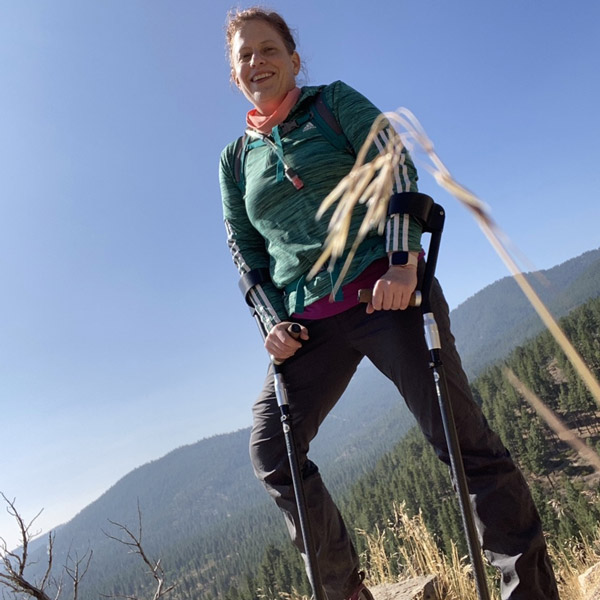 Curious about how you can help a CIDP patient? Be a compassionate listener, and supportive of your friend or loved one with CIDP. It can be very scary to experience such dramatic changes in the body. Beyond that, go donate plasma! The healthy immune cells derived from your plasma blood products are life changing for those of us who to through Ig infusions. While regular infusion treatments may sound inconvenient, I feel gratitude every week as I do my own.
 Jennifer "Lizzie" MacDonald leads the Patient Advocacy Program at River's Edge Pharmacy. As a patient with multiple chronic conditions, Lizzie has first-hand experience with navigating the complex health system.
Throughout her journey, she has become impassioned with sharing her knowledge and serving as an ambassador for patient independence, wellness, and recovery. This not only lead to patients' relief and comfort, it has provided an opportunity for doctors to utilize a patient advocate for more effective and time-saving care in their practices.

Lizzie is an outspoken supporter of creating community through support groups as well as through the invaluable connection of one-on-one interactions for patients who are managing chronic/complex illnesses. Through her efforts, she has emboldened patients to share their ideas, goals, and triumphs, as well as live life to the fullest, regardless of their condition(s).

Lizzie can be reached at Jennifer.MacDonald@repharmacy.com